San Francisco Gynecomastia Specialist Offers 7 Tips on Choosing a Male Breast Reduction Surgeon
April 27, 2020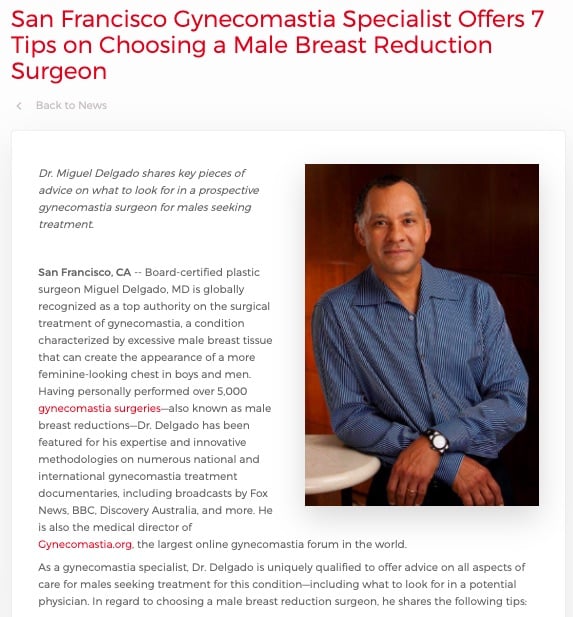 Dr. Miguel Delgado shares key pieces of advice on what to look for in a prospective gynecomastia surgeon for males seeking treatment.
San Francisco, CA — Board-certified plastic surgeon Miguel Delgado, MD is globally recognized as a top authority on the surgical treatment of gynecomastia, a condition characterized by excessive male breast tissue that can create the appearance of a more feminine-looking chest in boys and men. Having personally performed over 5,000 gynecomastia surgeries—also known as male breast reductions—Dr. Delgado has been featured for his expertise and innovative methodologies on numerous national and international gynecomastia treatment documentaries, including broadcasts by Fox News, BBC, Discovery Australia, and more. He is also the medical director of Gynecomastia.org, the largest online gynecomastia forum in the world.
As a gynecomastia specialist, Dr. Delgado is uniquely qualified to offer advice on all aspects of care for males seeking treatment for this condition—including what to look for in a potential physician. In regard to choosing a male breast reduction surgeon, he shares the following tips:
Ensure they are board-certified by the American Board of Plastic Surgery (ABPS), which indicates that a doctor has received extensive training and passed rigorous testing specific to plastic surgery.
Verify membership in the American Society of Plastic Surgeons (ASPS) and the American Society for Aesthetic Plastic Surgery (ASAPS), which are prestigious medical organizations centered around continuing education and the advancement of plastic surgery.
Confirm they are in good standing with all medical boards, which is a reflection of their commitment to patient safety and ethics.
Make sure they are highly experienced in gynecomastia surgery, paying particular attention to how long they have been performing male breast reduction and how many gynecomastia patients they have successfully treated.
View numerous before-and-after photos of their male breast reduction cases, as these are indicative of their surgical talent and the quality of results they are capable of achieving.
Read online reviews and testimonials left by previous gynecomastia patients, which can provide insight into the level of care to be expected from a particular surgeon.
Schedule a consultation to make sure there is a strong rapport, good communication, and an overall sense of comfort and confidence in the knowledge and skill of the surgeon—as well as the support and kindness of their staff.
Ultimately, Dr. Delgado notes that if anything seems wrong or does not meet one's expectations when evaluating a potential male breast reduction surgeon, the search should continue. "Selecting a gynecomastia surgeon is not a decision that should be rushed or made without significant consideration, as choosing the right provider is critical to receiving top-quality care and excellent final results. You should be completely confident in your surgeon's training, certifications, experience, skill, demeanor, and overall practice environment—including the competency of his or her staff—and only then should you move forward with treatment."
About Miguel Delgado, MD
Dr. Delgado is a plastic surgeon in San Francisco and Marin County, CA. He is board certified by the American Board of Plastic Surgery, as well as an active member of the American Society for Aesthetic Plastic Surgery and the American Society of Plastic Surgeons, among several other esteemed organizations.
Due to his expertise in male breast reduction, patients have traveled from all over the globe to receive gynecomastia treatment from Dr. Delgado, including individuals from Canada, Europe, Australia, Thailand, the Middle East, and all areas of the U.S. Gynecomastia.org—the online gynecomastia forum he owns and operates—provides a secure, private avenue to ask questions, discuss treatment options, and connect with top surgeons around the world.
During the current COVID-19 pandemic—and as a convenience to out-of-town patients even under normal circumstances—Dr. Delgado offers virtual consultations for anyone interested in gynecomastia surgery.
To learn more, visit dr-delgado.com and facebook.com/MiguelDelgadoMD. Dr. Delgado is available for interview upon request.
Contact:
Miguel Delgado, MD
San Francisco Office:
450 Sutter St.
#2433
San Francisco, CA 94108
(415) 989-2221
Marin County Office:
165 Rowland Way
Suite 300
Novato, CA 94945
(415) 898-4161