The cosmetic aspect of rhinoplasty surgery usually involves the appearance of the nose, including changing the tip and dorsum and their relative proportions. The reconstructive component is the correction of a nasal septal deformity or nasal turbinate surgery.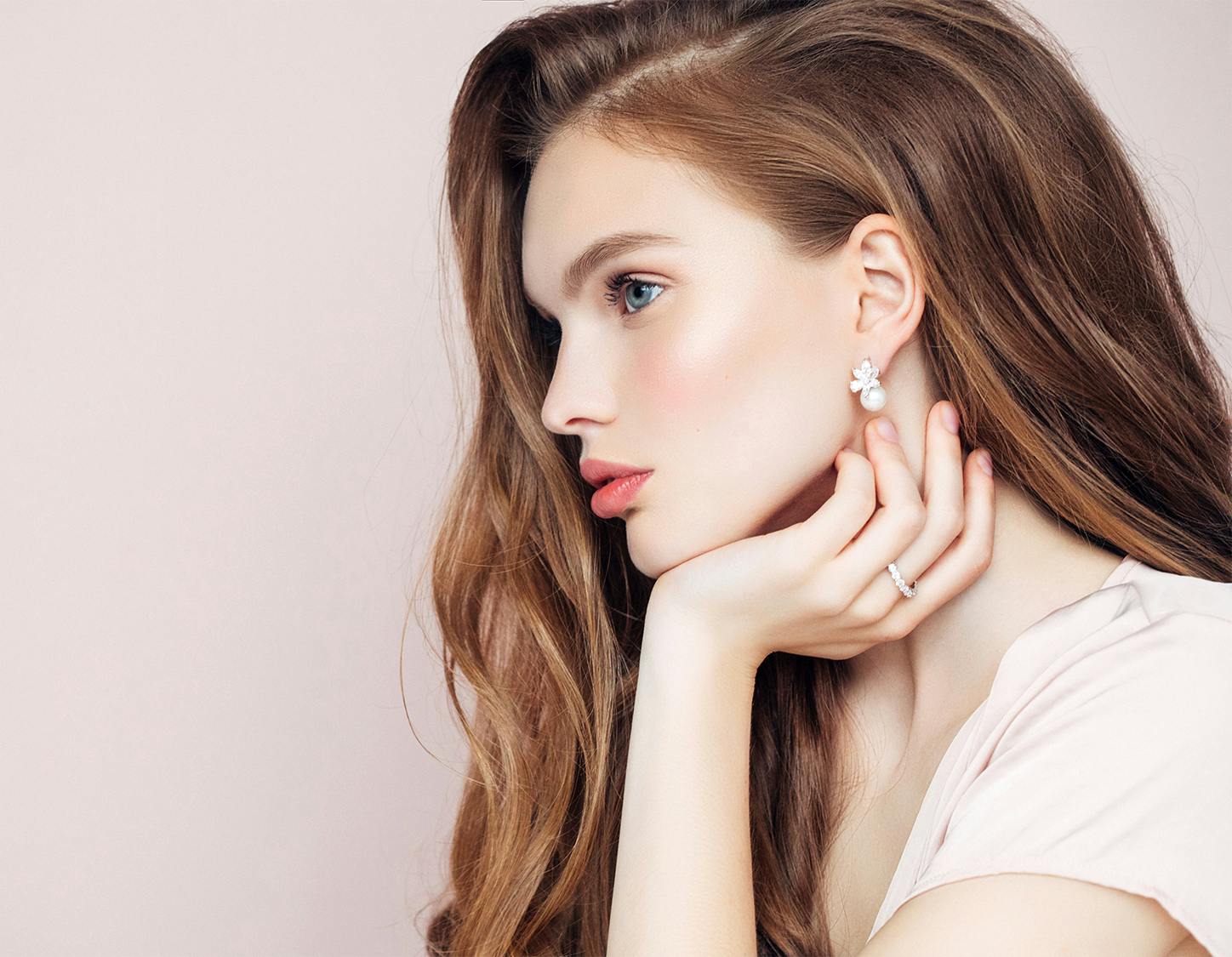 The Ideal Nose
For Your Face
If you are considering surgery to change the shape of your nose, the current options are much greater than ever before. Rhinoplasty surgery has advanced in recent years, giving both plastic surgeons and patients many more options. Computer imaging has greatly enhanced the ability to customize cosmetic rhinoplasty surgery. Dr. Miguel Delgado can give you a realistic "before and after" image of the proposed outcome. This is an excellent communication technique. By analyzing facial proportions and angles, one can better fit one's nose to the facial anatomy. Today, the emphasis is on individual customization. All noses should not look the same.
| | | | | |
| --- | --- | --- | --- | --- |
| Procedure | What It Does | Surgery | Recovery | Results |
| Rhinoplasty | Changes the shape and size of the nose | Yes | 7-10 days, avoid certain activities for 4-6 | Long-lasting (results may vary) |
| Chin Implants | Improves facial symmetry and defines jawline | Yes | 7-10 days | Long-lasting (results may vary) |
Before Rhinoplasty
A personal consultation is the first step for every patient considering rhinoplasty. During this appointment, Dr. Delgado will ask you to discuss your concerns about your appearance and any breathing difficulties. Dr. Delgado will use computer imaging to discuss the external appearance of your nose and examine the quality of the nasal passage. The computer can add, subtract, or alter the configuration of existing nasal tissue. This can significantly enhance your visual understanding.
The nose that is in balance with your face is important to create visual harmony. For example, the nasal profile is a prominent anatomical feature. If the chin is small, it greatly impacts the balance and can make the nose look larger or out of proportion. For this reason, nearly 50% of rhinoplasty patients have chin implants at the time of rhinoplasty surgery.
The computer can also help with angles, lengths, widths, and proportions. For example, a measurement is taken from the bottom of the nose to the bottom of the chin. This distance represents X. For the "ideal" facial/nasal proportion, the length of the nose should also equal X. The projection of the nose should equal 0.67X, and the bridge of the nose should equal 0.28X.
In planning for surgery, these values are compared with the actual, which is a starting point of the surgical plan. During the actual surgical procedure, Dr. Delgado has these measurements outlined in graphic form, as well as having your actual photographs in the operating room for a reference point.
The aesthetic for male and female nose re-shaping is very similar. Even though each nasal case is customized, there are fundamental similarities between males and females. The male nose has a fuller or higher nasal profile, and the angulation is much more subtle. The female nasal tip has slightly more elevation than the male.
Dr. Delgado provides patients with a detailed booklet that provides pre-and post-operative instructions. All aspirin and aspirin-containing products, including anti-inflammatory products, must be stopped two weeks before and two weeks after surgery. Dr. Delgado's preoperative instructions will have a complete list of the medications to avoid. However, Tylenol (acetaminophen) can be safely taken during this time. However, do not exceed 1 gram over 4 hours or 4 grams per day from all sources since this can cause liver damage.
Also, you will be given a list of homeopathic preparations and vitamins to take before and after surgery. This is done to promote healing and limit bruising.

After Rhinoplasty Surgery
The first hours are spent in the recovery room until you are fully alert. At this time, you are able to go home. It is of paramount importance that you keep your head and back elevated at 45-60 degrees. This will greatly reduce the amount of swelling. There is very little pain associated with nasal surgery, but the nose feels swollen and stuffy.
Pain medications and antibiotics are prescribed. The sutures and nasal cast are removed in five to seven days. Makeup can be applied when the cast is removed. You can return to work or social activities within one week and drive as soon as you are off pain medications.
Strenuous physical exercise should be avoided for 4-6 weeks, as it can trigger swelling. Contact lenses can be worn after a few days. If you wear glasses, they can be worn gently for short periods, initially. A slight degree of swelling will persist in the tip, anywhere between 6-9 months.

Results
The result is an improvement in the aesthetic balance of your nose and your face. The airway may be significantly improved as well. The result should create a better balance between your nose and your facial features. Dr. Delgado may suggest a chin implant to better balance your face. This is done in conjunction with rhinoplasty in over 50% of cases nationwide. The nose must look natural, well balanced, and without an artificial or surgical appearance. This is the case for both male and female noses. Dr. Delgado is an expert in the precision that is required for the aesthetic differences between the sexes.
Risks And Complications
As with any operation, there are risks and complications. However, with a board-certified plastic surgeon, well-trained surgical team, and a board-certified anesthesiologist, complications are unusual.
Like all surgeries, the risks of bleeding, infection, or anesthetic problems are present. In approximately 15% of rhinoplasty cases, there are minor deformities present, and corrective surgery is usually minor.
FAQ
What is the cost of nose reshaping rhinoplasty surgery?
Will my nose be broken?
Do I need general anesthesia?
How long will there be swelling?
Is the surgery risky?
What happens if I don't like the results?
What is the cost of nose reshaping rhinoplasty surgery?
The cost of rhinoplasty varies depending on the complexity of the case. The price ranges from $8,000-$10,000. This includes the professional services of Dr. Delgado and the anesthesiologist and the use of Marin Cosmetic Surgery Center.
Will my nose be broken?
The nose will be broken if there is a bump or prominence on the top of the nose, as seen on the profile. This is an important procedure to narrow the dorsum of the nose. This causes temporary bruising around the eyes.
Do I need general anesthesia?
Most nose reshaping procedures are performed under general anesthesia. Dr. Delgado prefers to perform nasal surgery requiring bone reshaping and nasal septal surgery under general anesthesia. This requires the services of a board-certified anesthesiologist who is experienced the particular challenges and risks associated with rhinoplasty procedures. If nasal tip surgery, nasal tip-plasty, is the procedure of choice, then local anesthesia can be sufficient and appropriate.
How long will there be swelling?
Eighty percent of the swelling is gone in four to six weeks, but the remaining 20% gradually resolves over the next five to nine months. You will notice slight changes in swelling from day to day, depending on your activity.
Is the surgery risky?
Rhinoplasty surgery has the same serious risks that all surgeries carry. These risks are minimized when a patient chooses a surgeon and an anesthesiologist who are both American Board certified. Risks are further lowered when operating in a state-of-the-art accredited outpatient surgery center, particularly one with the advantage of being contiguously located to a full-service hospital. Add these qualifications to the fact that both Dr. Delgado and his anesthesiologist have numerous years of experience in their specialties. As an accredited outpatient surgery center, Marin Cosmetic Surgery Center is fully staffed with state-licensed, and ACLS (Advanced Cardiac Life Support) certified Registered Nurses, state-certified Operating Room Technicians, and other specially trained support personnel. These are the types of qualifications for which you should look when choosing where to have your surgery.
What happens if I don't like the results?
Through the process of discussion and computer imaging, we develop a clear understanding of your goals. A 15% revision rate is to be expected, regardless of a surgeon's skill and experience. If you are not satisfied with your results, Dr. Delgado will waive his professional fee for revision surgery. The cost of anesthesia and the use of the surgery center for revision surgery would still be the patient's responsibility. Sometimes, minor revisions can be done in the office at no further cost to the patient.