"Smartskin™ Laser Resurfacing" Now Available at Novato Med Spa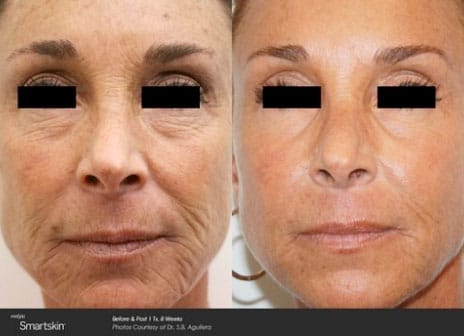 *Results may vary
Dr. Miguel Delgado, M.D. in his effort to always have the most advanced treatments available to his patients now has Smartskin!
About Smartskin
Smartskin uses the most advanced resurfacing technology available to reduce sun damage, fine lines, wrinkles, large pores and acne scars.
Smartskin can also be a non-surgical treatment for eye wrinkles; it tightens eyelid skin, removes bags, dark circles, crows feet and elevates the eyebrows as shown on this video presentation from "The Doctors." It requires 3 to 5 sessions at 2 weeks apart for only about 10 minutes per session. The laser treatment allows new collagen to form.
Unlike other CO₂ lasers that have "one size fits all" settings, Smartskin treatments are customized to match the patients' needs because no two patients are alike.
Developed by Cynosure, Smartskin Laser offers significant skin rejuvenation for the face, neck, chest and hands without surgery. Treatment maximizes results while minimizing discomfort with little downtime.
The Dr. Delgado Difference
Dr. Delgado uses a topical anesthetic for patient comfort. The amount of time for treatment is dependent on the size and number of areas to be treated. The laser emits short pulses of energy and stimulates the production of collagen within the skin rejuvenating the skin from the inside out.
After treatment, you may have some tenderness and redness of the skin, similar to mild sunburn. Improvement of the skin will continue for several weeks as new collagen continues to form.
Call today (415) 898-4161 for a skin consultation and find out if you are a candidate for this fabulous treatment.