Do Your Ears Hang Low? Consider Earlobe Reduction
October 16, 2018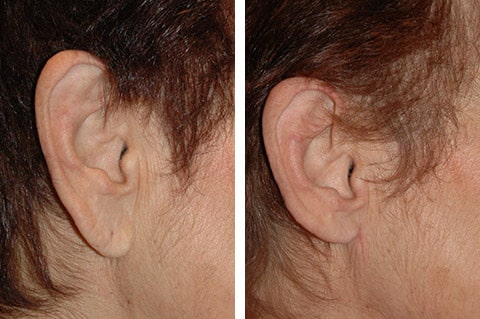 Sagging and drooping skin are some of the most distressing signs of aging. Most people don't think about their earlobes until the lobes become wrinkled and may become elongated.
EARLOBES DROOP AS WE AGE
Skin contains collagen and elastin. The collagen and elastin begin to dissipate as we age, making the skin begin to sag and wrinkle. Without proper elasticity, the skin will look older, and the earlobes may elongate. For women who like to wear heavy earrings, the problem is amplified. It is difficult to hide the ears with hair.
FAT OR JUVEDERM FOR A NON-SURGICAL SOLUTION
Earlobe rejuvenation is possible with Juvederm an injectable filler. Juvederm will add volume and plump the earlobes eliminating the sagginess and elongation. The filler can also reduce the earring hole if it is stretched. Juvederm injections take about 30 minutes or less with no downtime. As spectacular as Juvederm is, there is a more permanent solution, fat injections! Fat injections are becoming the most popular filler for the earlobes and the longest lasting.
EARLOBE REDUCTION WITH A FACELIFT
For a more permanent solution, that is increasing in popularity, is a surgical reduction of the earlobes. Surgical reduction is especially popular for the facelift patient. Elongated aging earlobes can sabotage the results of an otherwise fabulous facelift.
Earlobe reduction can be challenging for the surgeon to achieve a natural look.
Dr. Miguel Delgado, M.D.
says the surgeon must have a good sense of balance, and an artistic eye. The incisions must be placed expertly so that when they are healed, they are well hidden. If the lobes have a wrinkled appearance, volume can be added with fat injections or Juvederm.
CALL TODAY!
Don't let wrinkled, hanging earlobes age your face unnecessarily, call now for a consultation with Dr. Delgadoat (415) 898-4161.