Gynecomastia Patient Spotlight – Jason's Story
February 13, 2020
For males bothered by gynecomastia (a condition informally referred to as "man boobs" or "moobs"), reading about the experiences of other individuals who were in similar situations and chose to take action can be incredibly empowering. For this reason, we are pleased to share such accounts on our website. This is the story of one young man, Jason, who sought a consultation for gynecomastia.
PRELIMINARY RESEARCH ON GYNECOMASTIA
At 17 years of age, Jason had been troubled by male breasts for over three years. His mother noticed Jason was spending a lot of time on the website Gynecomastia.org. Jason's mother was aware that the website offered an extensive amount of information about gynecomastia, and that there were chat rooms where members could share information and ask questions. His mother understood that Jason was very embarrassed about his condition, and asked him if he would like to see a specialist. He was thrilled and jumped at the chance! They discovered that gynecomastia.org has a section called "find a surgeon." It was there that they found board-certified plastic surgeon Miguel Delgado, MD, who practices in San Francisco and Novato, California.


A CONSULTATION WITH MIGUEL DELGADO, M.D.
After a virtual consultation, Jason knew that Dr. Delgado was his choice. Jason and his family live out of town, but Dr. Delgado offers a generous travel package that made their trip hassle-free. Jason and his parents went to San Francisco for the consultation and turned the visit into a fun vacation.
Jason was very nervous about his first visit and requested that only his father would accompany him. He was relieved when he met the office receptionist who was very discreet and in no way made him feel uncomfortable. After filling out some paperwork, he was escorted to Dr. Delgado's office with his father. They felt very comfortable with Dr. Delgado; his expertise of gynecomastia was very apparent. Jason was asked about his medical history and when he first developed breasts, as well as many other questions with the aim of discovering what may have caused his gynecomastia. Prescription medications, over the counter supplements, and other known substances were ruled out. Dr. Delgado told Jason that his gynecomastia was most likely hereditary since his father also had the condition.
THE PHYSICAL EXAM
After the consultation, Dr. Delgado guided Jason to an exam room where he had him remove his shirt. It was determined that Jason had both breast tissue and fat, and he would need surgical excision of the breast tissue and some liposuction for fat removal and sculpting. After the physical exam, Jason returned to Dr. Delgado's office where he and his father viewed many pictures of patients before and after gynecomastia surgery. Both Jason and his father were able to ask many questions. They both felt that they understood what to expect and were anxious to know what the gynecomastia surgery cost would be.
THE QUOTE
Jason and his father then met with the patient coordinator who presented them with a printed quote that had a breakdown of all the fees. The quote included the professional surgical fee, the surgery center fee, the anesthesiologist's fee, and all post-operative visits. The only fees that were not covered were the lab tests and prescriptions; however, some patients have found that their medical insurance, while it would not cover the surgery, would cover those costs. Jason's father thought the fees to be reasonable and asked if they could proceed and schedule gynecomastia surgery.
SCHEDULING SURGERY
The best part for Jason was that he was able to get a surgery date at the beginning of summer so he would be well-healed in time for school in the fall.
Within a few days after returning home, Jason received a packet of information in the mail. The packet included detailed information for before and after surgery. There was an extensive list of things that he needed to avoid two weeks before and two weeks after his male breast reduction surgery. He learned that he had to avoid certain vitamins, minerals, and herbs that may cause bleeding problems during and after surgery.
SURGERY DAY ARRIVES
As Jason's surgery date approached, he arrived at Novato Oaks Inn with his parents. The hotel was only a couple of miles from Marin Cosmetic Surgery Center—Dr. Delgado's private practice. The hotel provides free transportation to the office and surrounding areas. After a couple of fun days sightseeing with his parents, Jason was ready for his surgery. He arrived early in the morning, and after having nothing to eat or drink after midnight, he met with the anesthesiologist, and then with Dr. Delgado. Jason was then taken into surgery, and a few hours later he woke up in the recovery room. He was wearing a compression vest that he was to wear for the next six weeks. A few days later, Jason's drains were removed and then, after the sutures were removed, Jason and his family returned home.
POST OP SURGERY
Jason kept in touch with Dr. Delgado by phone and Skype. Even with some remaining swelling, Jason could see that his result was fantastic. By the time he was able to discard the compression vest, he was well-healed and ready to enjoy his new physique. He no longer had to hide his chest with multiple layers of shirts and no longer had to avoid activities where he would want to go shirtless. He was advised, however, to be careful in the sun until his incisions were fully healed to prevent keloids (thick scars).
DAD'S TURN
Jason's parents were so happy that their son was able to finally live a normal life without the embarrassment of his gynecomastia. His father, who was particularly thrilled, called Dr. Delgado and scheduled a consultation and surgery for himself. His wife was very surprised that her husband wanted surgery, as she did not know that he had been suffering for years with his gynecomastia.
THE "LIGHT PULL-THROUGH PROCEDURE"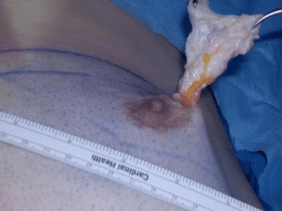 Jason's father did not have as much breast development as Jason, and therefore he was a candidate for a procedure known as the "light pull-through" technique, which is less invasive. The breast tissue is pulled through a small incision at the base of the areola with an instrument similar to a pickle fork.
LIFE-CHANGING EVENT
Jason's mother was excited that they were able to plan a family vacation to the Bahamas, which had been her lifelong dream. Father and son were able to enjoy the beach for the first time without worry of exposing their chests. Dr. Delgado has witnessed many stories like this where gynecomastia surgery has changed the lives of many men and their loved ones.
DO YOU KNOW IF YOU HAVE GYNECOMASTIA?
Many men who have noticed changes in their breasts wonder if they have gynecomastia. It is recommended that any time you notice changes in your breasts; you should see your doctor. Breast cancer is very rare for men, but it needs to be ruled out. If gynecomastia is suspected, seeing a gynecomastia specialist is recommended. Some men may have only fat causing their breast enlargement; this condition is referred to as "pseudo-gynecomastia." In many cases, pseudogynecomastia may be resolved by liposuction alone. However, the majority of men have "true" gynecomastia which is a combination of breast tissue and fat that will require surgical intervention.
CALL TODAY!
If you suspect that you may have gynecomastia, contact us online or call for an appointment now with Miguel Delgado, M.D. at (415) 898-4161. The first step is always the hardest, pick up the phone and call—you will be glad you did.