How to Get Rid of a Belly "Pooch" After Pregnancy
A belly fat "pooch" is a common concern for many women, especially after having children. If you are relatively young with good skin quality and have a belly fat pooch, liposuction may be the perfect option. However, if you have had a child or two, the dynamics of the stomach fat changes. The belly pooch has various components: loose skin, lax abdominal core (diastasis recti), and belly fat accumulation. Unfortunately, this is resistant to diet and exercise because of the biological changes to a woman's body from bearing children.
If a c-section is required during pregnancy, this will yield additional scar tissue issues and a belly fat pooch that hangs unnaturally over the c-section incision. Subsequent c-sections and pregnancies further compound this appearance.
Weight gain often goes along with pregnancy. Some women can quickly gain 40–50 pounds during nine months of pregnancy. This added weight can surely add to the belly fat, and it is sometimes very difficult to lose. It requires extreme discipline with diet and exercise, and this most often does not get a woman back to her pre-pregnancy body.
Some women can also develop fat in the upper pubic area, also known as "FUPA." The pubic fat deposit is an increasing issue for women who want to look sleek in modern tight athletic wear or stretch blue jeans.
The solution is a tummy tuck, which can eradicate the belly fat, loose skin, lax abdominal musculature, and FUPA! A tummy tuck, or abdominoplasty, is the gold standard for core reconstruction after pregnancy. These issues are resolved permanently. (See below.)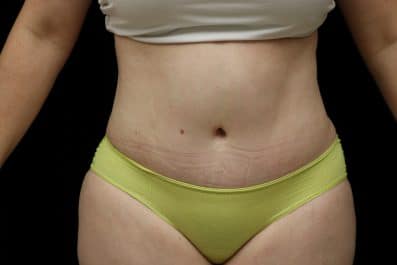 Dr. Miguel Delgado is regarded as an expert in post-pregnancy reconstruction and can design the perfect plan to achieve your goals. If you are seeking to get rid of a belly pooch after pregnancy, we encourage you to contact us today to book a consultation!