San Francisco Magazine Names Top Doc's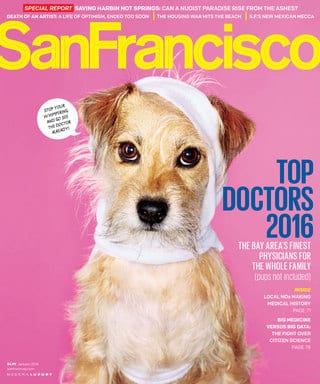 SAN FRANCISCO IS THE PERFECT VENUE
San Francisco has long been a top vacation destination for world travelers. The San Francisco Bay Area has something for everyone, from nature lovers to jet setters. There is China Town, Fisherman's Wharf, Golden Gate Park, Alcatraz Island, and Union Square to name just a few. With such diversity, it is the perfect venue for a magazine for the discriminating reader.
Through the years, San Francisco Magazine has evolved to what it is today. The magazine is published monthly with articles on such topics as culture, politics, the arts, beauty, real estate, wineries, home design, architecture, city life and travel.
SAN FRANCISCO MAGAZINE WINS AWARDS
Additionally, the magazine features the chicest design trends, cutting edge fashion, and reviews of Bay Area's "Hot Spots," including restaurants, clubs, and bars. Schedules are published for galleries, music, and performances. Editorials debate the latest topics of the day.
San Francisco Magazine was the winner of the National Magazine Award for 2010 and 2015, and the James Beard Award for 2015.
MIGUEL DELGADO, M.D. TOP DOC!
When San Francisco Magazine published their Top 12 Plastic Surgeons for 2016, it was a real honor for Miguel Delgado, M.D. to be chosen.
If you are looking for a cosmetic plastic surgeon, email info@dr-delgado.com or call (415) 898-4161 for a consultation with Miguel Delgado, M.D. your "Top Doc!"