The Cause and Cure for Stretch Marks
November 30, 2017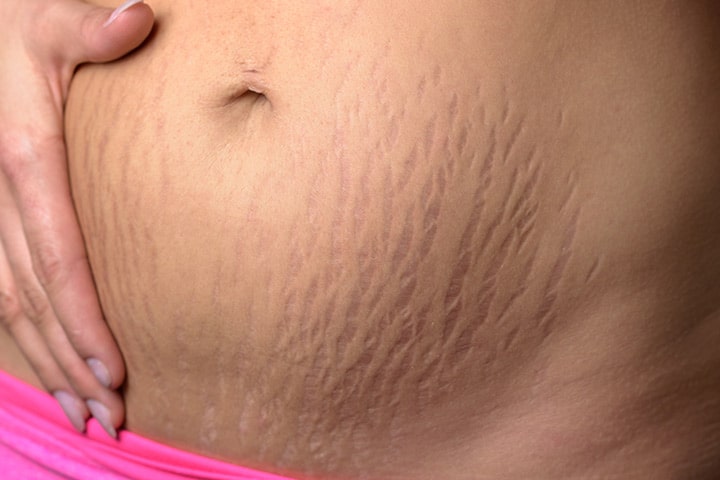 STRETCH MARKS CAUSES
Stretch marks appear on the body as a result of skin that has been stretched and is very common. The marks can affect anyone but are more common for women. The most common areas for stretch marks are; the hips, tummy, butt, breasts, lower back, and upper arms. Constant stretching affects the dermis of the skin which tears, resulting in stretch marks. Usually, this will occur during pregnancy, puberty, rapid muscle building from weight training, and rapid weight gain. However, stretch marks can also be linked to:
Hormone changes
Genetic factors
Inherited defects
Alcohol consumption
Water intake
Family history
There are more conditions such as; changes in skin collagen and connective tissue which are age-related. The color is usually purple, red, or pink; they do gradually fade to a silvery color.
Stretch marks are not a medical problem nor are they harmful. Topical preparations have shown to have little or no effect on prevention. But creams and lotions can help with itching and dryness of the skin.
SILICONE GEL CAN INCREASE COLLAGEN
The application of silicone gel has shown increased collagen levels and reduced pigmentation. Pregnant women need to get approval from their doctor before using any type of treatment. It should be noted that stretch marks will fade over time leading some people to believe their creams and potions work as they become less visible.
PALOMAR LASER MOST EFFECTIVE TREATMENT
Dr. Miguel Delgado, M.D. states the most effective treatments are lasers, in particular, the Palomar Icon Fractional Laser which has been FDA approved. It initiates biologic changes in the tissue including the formation of new collagen. Initially, the laser makes micro wounds by hundreds of tiny beams that penetrate the skin. As the body mends these microscopic wounds, new tissue replaces the old.
Several treatments may be necessary to get the best result. Anesthetic ointment is applied before treatment. The Palomar laser is an office procedure with no downtime. You may experience some swelling and redness that may last a couple of days.
TUMMY TUCK SURGERY REMOVES MOST STRETCH MARKS
Patients who are having a tummy tuck will be pleased to learn that all stretch marks below the belly button will be removed.
If you have been unhappy with stretch marks, there is help. Call now for an appointment with Dr. Delgado (415) 898-4161.