Diastasis Recti Repair and Tummy Tuck Surgery
September 13, 2017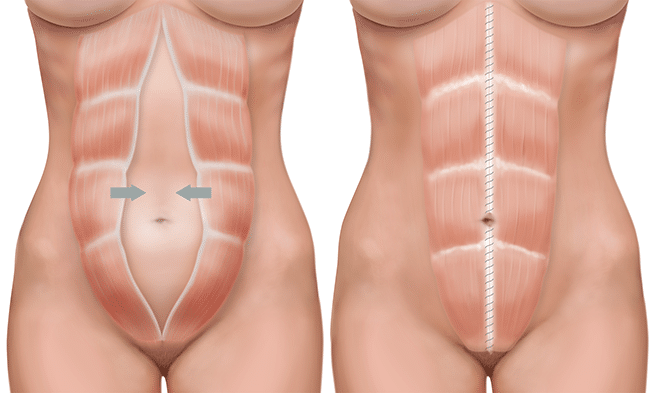 DIASTASIS RECTI AFTER PREGNANCY
Diastasis recti is a condition usually caused by pregnancy where the abdominal muscles have separated leaving the tummy looking very swollen. Pregnancy can change the shape of the abdominal wall, even for very thin patients.
Studies show diastasis recti can affect 35% to 62% of women who have had children, and can occur after only one pregnancy but more common after twins or two children.
IF EXERCISE FAILS, SURGERY IS THE ONLY OPTION
Parents Magazine recommends women try exercise first, suggesting some at home programs. However, no amount of exercise will work for most women leaving surgery as the only option. Tummy tuck surgery is the optimal time to have the muscles repaired, and then excess skin and fat can be tightened and removed.
To determine if you are a candidate for the muscle repair you want to see how much muscle separation you have, and it should be at least 2 finger widths and it is best determined by a Board Certified Plastic Surgeon.
FULL TUMMY TUCK INCISION WELL HIDDEN
For some patients, only the muscle needs to be repaired and it can be done with an endoscope inserted at the bikini line, this will avoid an incision around the belly button. However, most women opt to have a full tummy tuck to remove significant excess skin and fat. A full tummy tuck will require an incision from hip to hip, and the belly button will need to be re-positioned. The incision is placed in the bikini line and once healed it is well hidden.
WAIST ENHANCEMENT PROCEDURE
In addition to the traditional tummy tuck, Dr. Miguel Delgado, M.D. offers a waist enhancement procedure to his patients that sculpts and trims the waistline and can improve the shape of the upper buttocks.

CALL NOW!
If you have been unhappy with your post-pregnancy body, schedule a consultation today (415) 898-4161 with Dr. Delgado and learn what options are available to you.