Dr. Miguel Delgado Named a Top Doctor by Sonoma Magazine
June 17, 2018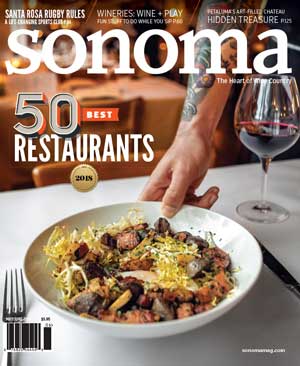 Selecting a cosmetic surgeon can be a challenging endeavor. Beyond finding a list of Board Certified Plastic Surgeons in your area, and checking online reviews, patients are advised to view before and after pictures of the surgical procedure(s) that they desire. However, there is more that can be done to narrow the choices.
DR. MIGUEL DELGADO TOP DOCTOR FOR THE THIRD YEAR!
When viewing a potential surgeon's website, note if there are various awards posted. Many cities have local magazines that publish many helpful topics for their reader's. Sonoma Magazine has a lot to offer their reader's. In addition to "things to do" there are recommendations for; restaurants, hotels, shopping, trip ideas, Top 100 Wines, and Top Doctors. 2018 is the third year the magazine has had the Top Doctors feature. Dr. Miguel Delgado, M.D. has been recognized each year including 2018, which will be out in September.
Sonoma Magazine uses a third party "Professional Research Services" (PRS) who compile their Top Doctors list. PRS believes the best referrals come from other doctors. They send out a survey to all licensed physicians in Sonoma, Napa, and Marin. The doctors are asked to nominate 3 physicians. They are to take into account; board certifications, education, bedside manner, and hospital appointments. The doctors cannot nominate themselves, or pay to be a Top Doctor.
ALL TOP DOCTORS ARE BOARD CERTIFIED
PRS then reviews all of the nominations, verifying all of the submitted information. PRS checks that the doctor is Board Certified and licensed by the Medical Board of California. Additionally, the disciplinary records must be clean.
Besides being a tremendous guide for the city's residents, newcomers will find the information invaluable as they get acquainted with their new home.
CALL TODAY!
If you are searching for a cosmetic plastic surgeon, Dr. Delgado has been in practice since 1988 and is happy to see new patients. Call now for a consultation at (415) 898-4161.