Palomar Icon Laser Treatment For Wrinkle Removal
FACIAL REJUVENATION, TURN BACK THE CLOCK!
Do your New Year's resolutions include getting into shape, making healthy choices and/or turning back the clock on your appearance?
You are in luck! Miguel Delgado, M.D.'s "Non-Surgical Center of Excellence of Marin County" offers a wide variety of non-invasive cosmetic treatments for rejuvenating the face, neck, décolleté, arms, hands and more.
PALOMAR 1540 LASER FOR WRINKLE REMOVAL AND MORE
To begin your New Year off with a fresh start, Miguel Delgado, M.D. recommends his latest laser treatment with the FDA-approved Palomar Icon Laser; he is offering both the Palomar 2940 (ablative) and Palomar 1540 (non-ablative). The ablative laser is more invasive, it removes the top layer of skin, and while the results are more dramatic for deep wrinkles, the recovery is longer. The non-ablative laser heats up the underlying skin tissue without damaging the top layer of skin. These two modalities can be combined.
Miguel Delgado, M.D. finds excellent results for his patients with Palomar 1540. With Palomar's 1540 patented delivery system it can achieve many of the same results that are seen with invasive procedures without the discomfort and recovery time.
The Palomar will treat:
Fine wrinkles
Lines
Sagging skin
Sun damaged skin
Spider veins
pigmented lesions
rosacea
acne scars
brown spots
Stretch marks
And more
THE BENEFITS OF NEW COLLAGEN
The Palomar 1540 delivers laser beams in narrow columns of energy within the tissues of the area to be treated which then develops new collagen. Skin is 80% collagen, and it is what makes the skin firm and elastic. The new collagen will continue to develop for weeks showing continued improvement in skin tone and appearance. The skin will be smoother; skin tone will be evened out, and pores tightened.
Most treatments last 30 minutes; mild wrinkles can be improved with a single treatment. However, depending on the areas to be treated and how severe the skin damage is you may need 3 to 5 treatments at intervals of 4 to 6 weeks. There may be some redness and swelling after the procedure, but will usually resolve in just a few hours. The Palomar 1540 uses a cooling device that cools the skin during the treatment making it more comfortable than other procedures. The laser penetrates deeper leaving the upper layers of the skin undamaged.
The benefits of the Palomar 1540 Laser are many and include:
High level of precision
Deeper penetration
No surface damage
No downtime
Shorter treatment time
Long term results
Less discomfort
PALOMAR 2940 OUT PERFORMS THE CO LASER
Older CO₂ laser resurfacing had excellent results for wrinkle removal and skin tightening (see picture) but needs to be done under general anesthesia. Additionally, the CO₂ has a long recovery that could be several weeks or months. Pigment cells may be damaged from the CO₂ laser causing the skin to turn white. The Palomar 2940 Fractional Laser is a single treatment like the CO₂ and gets great results with much less downtime, usually 5 to 6 days. The 2940 is much more comfortable requiring only topical numbing of the skin and has fewer complications than the CO₂ laser.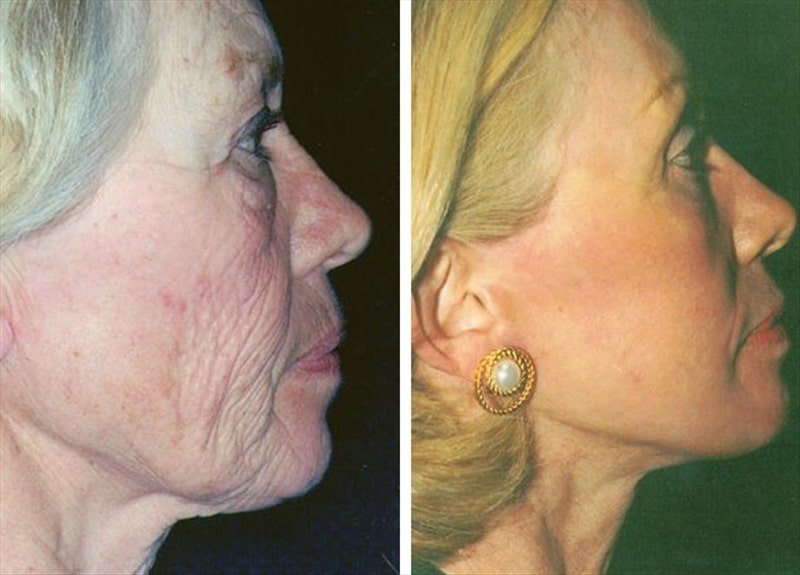 *Results may vary
START REJUVENATING YOUR FACE TODAY
The cost will depend on how many areas are to be treated. Results can last a few years, but with time wrinkles will eventually return.
If you are ready to start your New Year's Resolutions to a new and better you, call now (415) 898-4161 or email info@dr-delgado.com for a consultation with Miguel Delgado, M.D. Dr. Delgado will be able to evaluate your skin and determine what laser treatment will give you the best result.